Changing the appearance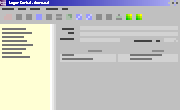 The Appearance tab of the Options dialog lets you change how LogonAssist looks in a number of ways:
Specify whether or not to show icons in menus
Change the size of icons in the Tool Bar *see note 1
Set background colours for the Explorer Bar and for the Information Area
Change the entire 'Look and Feel' between Java's and your Operating System's (this may also affect how your keyboard and mouse interact with the program).  * see note 2
At the bottom of the Appearance tab is a button which allows you to set the appearance to its factory default.
* note 1    Icons for disabled commands will not appear at the new size until you restart LogonAssist
* note 2   While Java does support different Looks and Feels, its support for changing them dynamically is limited. Some elements will not change until you restart LogonAssist.